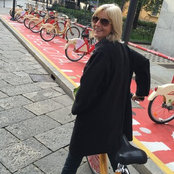 Kommenteret: How to lighten up brown kitchen
It's a little hard to tell from the photos how much lightness there is in the granite. I think the biggest impact would be from lightening the cabinets - paint them out a cream color or something lig...
Kommenteret: Interior door color?
One thing to consider is how the oak frame will look with whatever color you choose. The frame might become very noticeable depending on the door color. What about updating by adding a frosted panel...
Kommenteret: 3 bedroom, 2 bathrooms and 2 tubs?
I often remove tubs from master bathrooms - most people want a nice walk in shower - however - if you are a person who likes the option of either - add a tub! Really, it must work for you, but if yo...
Kommenteret: TV cabinet decor
I do think there is too much and too much that looks the same. I would eliminate anything below the tv or perhaps put the stack of books there and maybe just use the vase and flowers on one side. It...
Kommenteret: buying new home and the trim color is bothering me.
The way the trim is painted draws attention to it, and that is something that should just blend in. I would definitely paint out the trim and since you have painters in there, make whatever other cha...